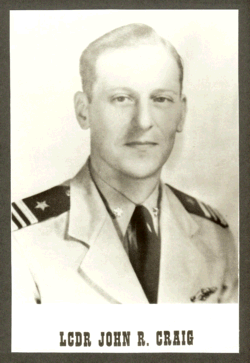 Lieutenant Commander John Rich Craig was born in Jacksonville, Florida on September 3, 1906. He attended grade schools in Jacksonville and the Duval High School, then entered the U. S. Naval Academy from Florida in 1926. After graduation and commissioning in 1930, he was assigned to USS SARATOGA
and served in her until March 1931, when he was ordered to Naval Air Station Pensacola, Florida. He was detached from duty there in September 1931 and during the next four and one half years served successively on the carrier LEXINGTON, and destroyers NOA, SIMPSON, and LONG and the fleet oilier NECHES. In January 1936 he reported to the Submarine Base, New London, Connecticut for instruction in submarines. After completing the course's in May 1936, he joined USS S-34 in Honolulu. In September 1937, he was transferred to USS S-24, serving in her until May 1938, when he returned to the United States .
Lieutenant Commander Craig had duty in the Bureau of Navigation, Navy Department, Washington, D. C. from June 1938 until December 1940, when he assumed command of USS R-17. In June 1942, he was ordered to duty on the staff of Commander, Submarines, Southwest Pacific, and on September 15, 1942, he assumed command of USS GRAMPUS. He was declared missing in action on March 22, 1943 when USS GRAMPUS was lost in the Southwest Pacific area. LCDR Craig was declared dead on March 23, 1944.
Lieutenant Commander Craig was awarded the Purple Heart posthumously. He had received the American Defense Service Medal, Fleet Clasp, and the Asiatic-Pacific Area Campaign Medal. For service in USS GRAMPUS, he received the Navy Cross with the following Citation:
"For extraordinary heroism as Commanding Officer of the USS GRAMPUS engaged in war patrols. Despite the great mental and physical strain of prolonged patrols in enemy-controlled waters, Lieutenant Commander Craig launched repeated, daring attacks on Japanese shipping, sinking two enemy transports and one cargo ship, totaling 24,000 tons, and damaging three enemy destroyers. His efficient and inspiring leadership and the loyal devotion to duty of the men under his command throughout the period made possible the successful accomplishment of a vital and hazardous mission."